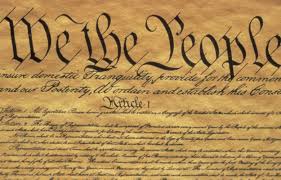 OK, I get it: The people in show business hate President Trump.  These haters find it necessary to use foul disgusting, despicable and degrading language to describe him and his family whenever they have an opportunity. Most of have never met a microphone they haven't liked and all seem willing to throw barbs at the President in hopes of getting more headlines or ratings.
Actors, musicians, artists, authors and television folk have stooped to a new low with their actions of late, and while I am a champion of the First Amendment, actually all of the amendments and the complete Constitution, for that matter, I am sick and tired of these people beating on the President and his family day in and day out.
It's enough already. I get it, heck, everybody gets it, show biz folk don't like President Trump, they don't like his policies, they think he is corrupt, that he has made a deal with a couple of devils and people want him out of office. And, more importantly, they think that because they are famous, other people care about what they have to say about the President.
Well Mr. De Niro, et al., the answer is nobody cares about your views on the President and his policies or his relationships with other world leaders. And furthermore, nobody gave you the right to apologize for me to our allies. I think Mr. De Niro's actions at the Tony awards were despicable.  I think that Samantha Bee's comments about President Trump's daughter were disgusting. And I don't believe that I am the only one. These people's job is simply to entertain us; nobody, and I for one, is looking to any of these stars for advice on public policy, governing, international relations, the economy or anything of substance other then when their next project is coming out.
The idea that people in show business actually believe that their opinion not only matters, but is important, is truly shocking. Clearly, they are drinking their own Kool-Aid.  It is enough, already. They are embarrassing themselves with their outrageous comments and actions. They need to simply go back to making movies, music and television shows that entertain.
Things that drive me crazy
On Sunday, my family and I went out to dinner for Father's Day. We went to local restaurant called Runyon's – a nice place that serves primarily American food. It has a very nice atmosphere and we go there at least once a month – it is a bit pricey.  Anyway, the four of us sat down to dinner and really had fun, we talked about the kids going to camp, we talked about when Felice and I went to camp as well as recent and past fond memories. It was a nice dinner, but one thing we all noticed was the lack of interaction between people at other tables around us. Everyone seemed to be on the phone, not just the kids – although there were a few with headphones and iPads – adults and kids alike were doing something on their phones. It was really a sad sight. I know it is commonplace, but quite frankly it drives me crazy.
A book I recommend
Recently I read John Carreyrou's book Bad Blood, which is all about Elizabeth Holmes and the train wreck that was Thernaos. The book is fantastic. I could not put it down. Carreyrou tells a good story that details management failures, entrepreneurial failures, investor failures and greed on so many different levels. The only bad part of the book is that it ends. The story is still being written as Holmes and her colleague Ramesh "Sunny" Balwani were recently indicted. I hope Carreyrou is working on part two.